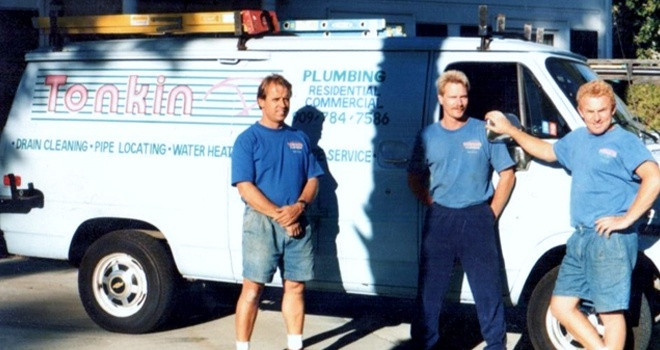 Our History
Tonkin Plumbing's roots are in New Zealand as both Phillip Tonkin and Terry Swney finished five year apprenticeships under the same mentor and company. 35 years ago Phillip moved to California and worked for a small plumbing company in Moreno Valley…Rancho Plumbing.
In 1987 Phillip opened Tonkin Plumbing. With only one plumbing truck and Phillip's hard work, Tonkin Plumbing began to grow. In 1994, Terry came to California and a partnership was formed creating Tonkin Plumbing Incorporated. Over the years, Tonkin Plumbing has grown into a successful family oriented company that is thankful for its customer service oriented employees and professional attitude.
Located off the 91/215/60 freeway interchange, Tonkin Plumbing is here to continue to exceed your plumbing expectations!
Our Team
Learn more about our staff and technicians.
Our Mission
To provide exceptional service to our customers by providing timely service with well trained professional staff
To build a strong positive image for the plumbing industry by promoting a well organized business with first-class personnel
To provide a safe and positive place of employment for all the associates of the company. Promoting training and further education for all
To provide a first class plumbing service with quality and reasonable prices.