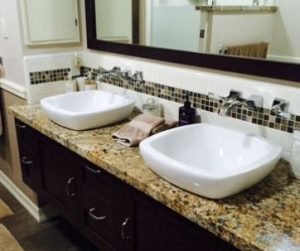 Bathroom remodels are not always the first thing that people think of when considering improvements to their home. However, remodeling a bathroom can make a real difference in the comfort, usefulness, and value of many homes. These are a few of the benefits of bathroom remodels.
Improvements
The bathrooms in many homes include outdated fixtures. It is also not uncommon for a homeowner to be frustrated with the overall layout and design of a bathroom. Too often, the "cookie cutter" bathroom design that is common in many houses does not serve anyone well.
Remodeling a bathroom provides an opportunity to make a number of improvements. Whether you want to update old fixtures, correct plumbing problems, or completely rearrange the layout, a remodeling project can be an ideal solution.
Comfort
Bathrooms often seem to be designed as an afterthought when building a house. These bathrooms may still be functional, but they are not spaces where you want to spend any more time than necessary. A bathroom remodel allows you to turn a functional room into a luxurious space that is pleasurable and enjoyable.
Energy
Energy efficiency is more than just a fad these days. Many homeowners are realizing that energy efficient appliances and fixtures translate into real savings. Upgrading old and inefficient bathroom fixtures can save a lot of money by lowering electric and water bills.
Value
Undoubtedly, a home serves a vital function as shelter, but most homeowners also consider their home to be an investment. Remodeling the bathroom in your home not only helps to maintain its value, but also may increase the value by thousands of dollars.
At Tonkin Plumbing, we have extensive experience remodeling bathrooms in homes like yours. We even have trained specialty designers available to help you plan the perfect bathroom remodel. Our team has been exceeding the expectations of our customers for 30 years, so you can have confidence when you work with us. Contact us today at 951-784-7586 to learn more about our services or to request a quote.