The bathroom is an easy room to forget about when considering home improvements, but the remodel of a bathroom can significantly improve the comfort and safety of any home. There are many benefits to remodeling your bathroom with a future focus.
Why Remodel the Bathroom?
The bathroom in a home is used many times each day by every occupant. Since this room is so frequently used, it only makes sense to invest in making at as comfortable and safe as possible.
Remodeling the bathroom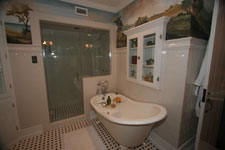 in a home has the potential to transform it from an uninspiring utility space into a luxurious haven. Improving the bathroom design is an investment that can increase the value of the home while providing a rewarding experience for many years.
Many bathrooms were designed with function and economy in mind rather than safety and comfort. While the space and fixtures in many bathrooms may be functional, they can become inconvenient as we age, particularly as we grow older and experience difficulty with mobility, balance or sight impairments. Toilets that are too low, sinks that are hard to use comfortably, showers or tubs that are difficult to access, inadequate lighting, and narrow doorways are all common bathroom safety problems. Unfortunately, these problems are present in the majority of home bathrooms and contribute to many injuries. In fact, more than 230,000 people end up visiting an emergency room every year because of injuries that occur in a bathroom, according to Consumer Reports.
Aging-in Place Design
Aging-in-place design is an approach to home design that focuses on improvements that will make a house safe and usable as the occupant ages. This approach blends safe and functional design with a concern for aesthetics. A bathroom that is designed for aging in place does not need to look institutional. Instead, the bathroom can offer all the same functionality as a traditional bathroom, but with subtle design elements like more accessible sink construction or low- or no-step showers that can make the room comfortable through all years of your life.
Tonkin Plumbing understands the importance of aging-in-place design, and works with homeowners to make the bathroom remodeling experience fun and rewarding. Our trained designers will help you consider all of the exciting possibilities for your bathroom remodeling project. Contact us today at 951-784-7586 to talk with an experienced plumbing professional to start working on your renovation project.